World religions pledge concrete action on climate change
In Brief:
Amid pageantry, Windsor event unveiled concrete action plans on environment by world religions
The plans promise the greening of thousands of religious buildings worldwide, increasing environmental education programs for children and youth, and simpler, more environmentally conscious lifestyles based on divine teachings
Vast numbers of followers make religions perhaps "the largest civil society movement for change"
WINDSOR, United Kingdom - Like most major interfaith events, the recent "Many Heavens, One Earth" gathering here in November was marked by considerable pageantry.
Led by drums and banners, leaders from virtually every major world religion arrived at the historic Windsor Castle in a diversity of colorful attire, showcasing the great diversity of faith communities.
By all accounts, however, the meeting was more than pomp and circumstance. The leaders also brought along concrete plans and commitments, outlining how the billions of people in the faith communities they represent could and would contribute to healing the earth's environment.
"Your potential impact is enormous," said UN Secretary General Ban Ki-moon, the keynote speaker, noting that faith groups run or help run half the world's schools, represent the third largest category of investors, and produce more weekly magazines and newspapers than the secular press in the European Union.
"You can establish green religious buildings. Invest ethically in sustainable products. Purchase only environmentally-friendly goods," he said. "You are among the most powerful educators in this world."
The plans offered by the faiths reflected these strengths. They spoke of making temples, churches, mosques, and religious schools more environmentally friendly, of increasing efforts to establish or boost environmental education programs for children and youth, and of advocating simpler, more environmentally conscious lifestyles based on divine teachings.
Held 2-4 November 2009, the Windsor event was sponsored by the United Nations Development Programme (UNDP) and the Alliance of Religions and Conservation (ARC), an organization founded in 1995 by HRH Prince Philip to help major religions to develop environmental programs.
The main session at Windsor Castle, held 3 November, sought to ceremoniously unveil the commitments of participating religions. Each offered a multi-year effort to promote "generational change" in global attitudes towards the environment.
31 plans
Thirty-one plans were presented, reflecting representation by virtually all of the world's independent religions: the Bahá'í Faith, Buddhism, Christianity, Daoism, Hinduism, Islam, Judaism, Shintoism, and Sikhism.
Their emphasis was on concrete action, focused on what religious believers themselves can do in their own lives and within their faith communities.
The Jewish plan, for example, aims to encourage Jewish institutions and individuals to apply environmental criteria in making investment decisions, to growing more of their own food, and to integrating environmental education into rabbinical and other schools.
The Muslim plan likewise urges a greater focus on environmental education, calling for the development of more material on conservation that can be used in Islamic schools. It also calls for the establishment of an umbrella organization, the Muslim Association for Climate Change Action (MACCA), that will represent Islamic nations and faith communities around the world, the creation of an Islamic environmental labeling system, and movement towards a "green hajj" to make the traditional Islamic pilgrimage more environmentally friendly.
"Bahá'ís believe that religious belief and spirituality lie at the foundation of human motivation and behavior."

- Tahirih Naylor, Bahá'í International Community
The Buddhists of Shanghai pledged to hold regular environmental lectures and seminars, run Zen "Mind Meditation Camps" to teach about mindfulness towards nature, and to develop educational materials. They are also urging followers to eat a more vegetarian diet to protect the environment.
Both Chinese Buddhists and Daoists pledged to promote the use of fewer sticks of incense in worship, something that comes partly in response to the relatively recent practice in newly affluent China of people burning hundreds of incense sticks and creating local pollution. By insisting that fewer incense sticks are enough, Daoist and Buddhist monasteries hope not only to protect their own clean air, but also to send a symbolic message that wastefulness is not a good way to be faithful.
The Sikh plan aims to have all Sikh gurdwaras - temples - start to recycle, compost, use eco-stoves, adopt rainwater harvesting, and purchase reusable plates and cups.
The Church of South India, which has four million members in 21 dioceses, pledged to become a "green church" through efforts such as rainwater harvesting, interactive eco-Bible study programs, Environment Day celebrations, the training of resource persons, and the promotion of organic farming and tree planting.
The Bahá'í plan pledges to use the Faith's worldwide system of regional training institutes to encourage Bahá'ís around the world to commit themselves to "acts of service related to environmental sustainability."
Scarcity versus abundance thinking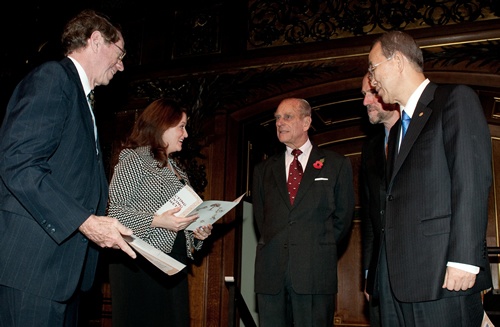 Martin Palmer, secretary general of ARC, said the plans and commitments unveiled at Windsor represent an important break from traditional thinking about how to solve environmental challenges.
He noted that many environmental groups exist to lobby others - such as governments - to take action or pass laws. "We took a deliberately alternative approach," said Mr. Palmer. "We are not telling anybody what they should do. We are saying what we will do, and then asking governments and others to join us."
Religions think differently about social problems, he said.
"If one were to sum up what Windsor represents, it is the contrast between scarcity thinking and abundance thinking.
"For national governments and most mainstream environmental groups, it is scarcity thinking. 'There isn't enough to go around. I'm going to give as little as possible but I want somebody else to do more.'
"With the faiths, it is abundance thinking. 'We will give what we can and we want you to do so as well,'" Mr. Palmer said.
Mahmoud A. Akef, executive director of Earth Mates Dialogue Center in London, which helped put together the Muslim plan, said "the idea of scarcity is a myth and most of our economic problems exist because of this [idea]."
Nigel Savages, executive director of Hazon, a New York-based Jewish environmental organization that helped put together the Jewish plan, said religions have two key contributions that can be made: "They have a moral voice and are capable of taking a long-term perspective."
In his view, the Jewish plan is essentially a "campaign," intended to "catalyze" the response of the Jewish people to climate change.
"The plans that were submitted at Windsor, including the Jewish one, were not authoritarian in nature," said Mr. Savages. "They were not religious leaders, speaking on behalf of their community, saying 'such and such must happen, and we instruct you to do X.'"
Tahirih Naylor of the Bahá'í International Community said religious belief can bring a uniquely powerful force for individual and collective change to the environmental movement.
"Bahá'ís believe that religious belief and spirituality lie at the foundation of human motivation and behavior," said Ms. Naylor, one of two Bahá'í delegates to the Windsor event.
"Religions have an unparalleled ability to reach out to people at the grassroots and to touch hearts and minds."

- Olav Kjørven, UNDP
"We believe that efforts to change harmful human behavior - such as those actions that contribute to global warming or environmental degradation - can be greatly facilitated by processes that lead to a better understanding of our own relationship to God, and of humanity's relationship with nature. It is from such understanding that action naturally arises."
Olav Kjørven, assistant secretary general of the United Nations and director of the Bureau of Development Policy at the UN Development Programme, said the sheer numbers of people who are deeply involved in their faith communities make religions perhaps "the largest civil society movement for change."
"Climate change is complex, and dealing with it requires us to change at many levels," said Mr. Kjørven. "It requires a change of ethos. Religions have an unparalleled ability to reach out to people at the grassroots and to touch hearts and minds. Religious institutions are the third largest actors in international markets. Environmentally friendly purchasing decisions by them would have a huge impact across the world."
Tony Juniper, special adviser to the Prince of Wales' Rainforests Project and former executive director of the Friends of the Earth, said governmental action on the environment can only go so far.
"Scientific rationalism gave rise to good science, which in turn gave rise to strong political arguments for cleaning up the environment," Mr. Juniper said.
"As a result, governments dealt with acid rain and other environmental threats. But these changes were only superficial," he said.
"Purely scientific rationalism cannot change our fundamental understanding of who we are and how we should live. Religion and science must work together to bring about a fundamental transformation in our relationship to the world. This kind of change needs a spiritual foundation," he said.
- With reporting by Barney Leith