Review: Stories from the front lines in the most underreported conflict of the century
In Brief:
More than 60 million women and girls are "missing" from the world's population
This "gendercide" comes from abuse, neglect, and abortion or infanticide aimed at women
Pulitzer-prize winning journalists Nicholas Kristof and Sheryl WuDunn say this "paramount moral challenge" can be addressed by a worldwide grassroots movement
Half the Sky: Turning Oppression into Opportunity for Women Worldwide
By Nicholas D. Kristof and Sheryl WuDunn
Alfred A. Knopf, New York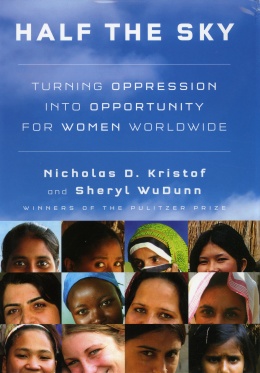 Early in their latest book, journalists Nicholas Kristof and Sheryl WuDunn offer this startling fact: a straightforward calculation of male-to-female ratios shows that at least 60 million women and girls are "missing" from global population figures.
This gap, they say, has largely come about because of decades of gender-specific abuse, neglect, and infanticide or abortion — "gendercide."
"It appears that more girls have been killed in the last fifty years, precisely because they were girls, than men were killed in all the wars of the twentieth century," they write in Half the Sky: Turning Oppression into Opportunity for Women Worldwide.
Armed with facts and figures like that — and coupled with a wealth of compelling personal stories about women who are on the front lines of this largely unreported war — Mr. Kristof and Ms. WuDunn argue that the "paramount moral challenge" of this young century is "the struggle for gender equality in the developing world."
Their focus is on three particular abuses: sex trafficking and forced prostitution; gender-based violence, including honor killings and mass rape; and maternal mortality, which they say needlessly claims one woman a minute.
These abuses reflect the darkest aspects of women's oppression, they say, and yet all can reasonably be addressed by concerted action at the international level and also by individual efforts on the part of global citizens everywhere.
For rather than merely complaining about the difficulties involved in addressing such egregious problems, Mr. Kristof and Ms. WuDunn explicitly and consciously weave into their tale stories of women who have successfully overcome abuse, neglect and inequality, often with the help of outsiders.
Specifically, they suggest, efforts to boost the education of girls and to provide microfinance for women can pay huge dividends in terms of ending oppression and creating opportunity.
"One study after another has shown that educating girls is one of the most effective ways to fight poverty," they write.
Many of these ideas, of course, are not new. UNICEF, UNIFEM and other UN agencies, along with numerous non-governmental organizations, have long cast women's inequality in a human rights framework and stressed the fundamental importance of education for girls in fighting poverty.
What makes Half the Sky so compelling, and therefore so important, are the heart-rending and intimately detailed personal stories that illustrate how deeply rooted these problems are in some parts of the world — and, yet, how it is nevertheless possible to make headway against them.
The book opens with the story of Srey Rath, a young Cambodian woman who at the age of 15 went to Thailand to wash dishes to help support her impoverished family and was instead taken to Malaysia where she was held captive and forced to have sex for money. To ensure compliance (and smiles for her customers), her captors routinely beat and drugged her.
Yet Ms. Rath escaped, returned to Cambodia, and connected with an aid group that helps girls who have been trafficked start new lives. The group used $400 in donated funds to buy a small cart and a starter selection of goods so that Rath could become a street peddler.
"One study after another has shown that educating girls is one of the most effective ways to fight poverty."

- Nicholas Kristof and Sheryl WuDunn
In another chapter, they tell the story of Mukhtar Mai, a young Pakistani girl who was gang-raped at the order of her tribal council as a monstrous but traditional punishment to her family. "They know that a woman humiliated in that way has no other recourse except suicide," Mukhtar herself later wrote. But she resisted that urge and went on to become an international spokesperson for women's rights and the founder of a school for girls.
In such stories, Mr. Kristof and Ms. WuDunn have a goal: to prod individuals into joining a "new emancipation movement to empower women and girls around the world."
For Bahá'ís, Half the Sky stands out for the signal attention it gives to the importance of women's advancement not only as a human rights issue, but one that is deeply connected to peace and prosperity for everyone.
About a century ago, 'Abdu'l-Bahá identified women's equality as a prerequisite to international peace and economic development.
Women, he wrote, "will be the greatest factor in establishing universal peace.… Inasmuch as human society consists of two parts, the male and female, each the complement of the other, the happiness and stability of humanity cannot be assured unless both are perfected."
The Bahá'í writings, moreover, emphasize the importance of educating girls, stressing that in the extreme instance where a choice must be made between educating boys or girls, girls should be given priority.
Mr. Kristof and Ms. WuDunn, who are married and between them have won several Pulitzer prizes for their reporting, offer considerable evidence that the advancement of women will have powerful reverberations in addressing other global problems. Half the Sky takes its title from a Chinese proverb that "Women hold up half the sky." and they endeavor to prove its accuracy.
"Think about the major issues confronting us in this century," they write near the book's conclusion. "These include war, insecurity, and terrorism; population pressures, environmental strains, and climate change; poverty and income gaps. For all these diverse problems, empowering women is part of the answer.
"Most obviously, educating girls and bringing them into the formal economy will yield economic dividends and help address global poverty. Environmental pressures arise almost inevitably from surging population growth, and the best way to reduce fertility in a society is to educate girls and give them job opportunities. Likewise, we've argued that one way to soothe some conflict-ridden societies is to bring women and girls into schools, the workplace, government, and business, partly to boost the economy and partly to ease the testosterone-laden values of these countries."